2019 PERFORMERS!
2020 LOWCOUNTRY IRISH FEST
Featured Musical Acts:
The Byrne Brothers (four-piece Irish family group)
SYR (sire) Celtic Folk Rock Band
Legacy Irish Dance Troupe
Carroll Brown Band (four-piece Irish American group)
The Bograts (Charleston based Irish American duo)
Catherine Kinder & the Charleston Trad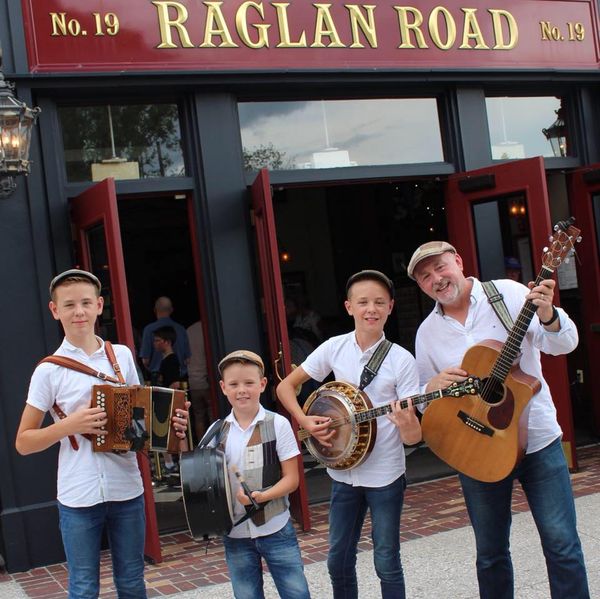 The Byrne Brothers - www.thebyrnebrothers.com
The Byrne Brothers are a super exciting family band from Dublin, Ireland. They moved to Donegal in northwest Ireland for a few years and currently reside and perform regularly in Orlando, Florida.
​They are All County Champions of their respective traditional Irish instruments, Duo and Trio Champions and Ulster Champion Irish Dancers. Their band leader dad, Tommy, was Dublin Champion on bagpipes, back in the day, and now plays with them on guitar, uilleann pipes, fiddle, whistles and bagpipes.
Their show is fast paced with brilliant musicianship on multiple instruments, exciting and dynamic arrangements as well as world class Irish dancing. 
​In 2016 a video of them playing on the street at the Fleadh went viral with 3.4 million views and was the most viewed video from Ireland in 2016. 
​While at home in 2017, The Byrne Brothers released three more viral videos. Two on the streets of Galway (21 million views) and another from Oliver St. John Gogarty's Irish Pub the night before they left Ireland, currently with 4.1 million views. Their Galway video was the most viewed video from Ireland in 2017 and their videos have been shared almost 1 million times.
​Summer 2018 they toured 39 US States performing at various festival venues, theaters and Irish Centers.
​They have a new self titled CD which received great reviews and is highly recommended by The Irish Music Magazine.
​2019 The Byrne Bothers performed again at Orlando's Raglan Road Pub and are currently on a 5 month US Tour and will finish in October in Hawaii. 
SYR (SIRE) is a Celtic Folk Rock band from Columbia, SC. Taking inspiration from Celtic history, stories and myth, SYR blends their various unique backgrounds to create powerful songs with themes like battle, love, loss, heritage and victory.
From humble beginnings at pubs and local venues, SYR has become a welcome addition to larger Celtic festivals and events, building a reputation for a high-energy performance. Their music is played regularly on Celtic radio programs across the US and internationally via Celtic Music Radio.
The band consists of siblings Kyle (lead vocals, guitar) and Laurel MacCallum (vocals, percussion), Emily Bracey-Neff (violin), Kelly Huff (bass), Luis Valverde (drums) and Ben Campbell (guitar).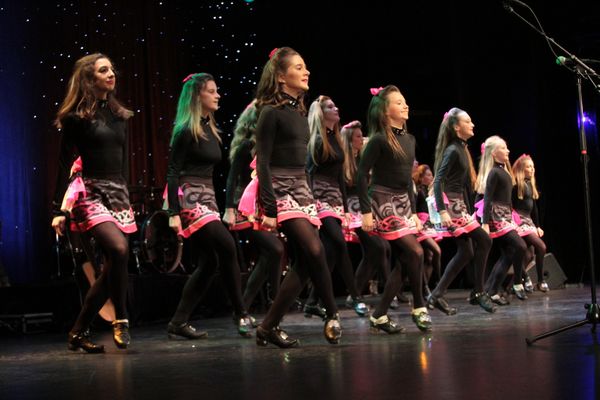 The Legacy Irish Dancers
Legacy dancers perform throughout the year at professional shows, festivals, corporate events and on numerous television programs.
Our dancers have had the honor to perform with the world's most reputable and talented Irish dancers. Principal dancers from Riverdance, Lord of the Dance, Magic of the Dance and Celtic Crossroads have worked with and shared the stage with our dancers.
 
Legacy Irish Dance Academy is the premier dance academy of the Southern Region, USA.  Legacy is owned and directed by Abbey Pride Wood, TCRG, Brent Wood, TCRG and Patty Darrah, TCRG/ADCRG.  Legacy is the elite training ground of numerous World, National and Regional Championship competitors. Our instructors have helped train Regional and National Champions, along with World Championship medal holders. They have had the opportunity to teach alongside dancers from Riverdance, Lord of the Dance and other great talents!   Over the years our instructors or their dancers have performed with Gaelic Storm, Americas Got Talent, Raglan Road, The NFL, Santana, The CFL, and numerous tv shows to name a few!  With a combined experience of 70 + years of teaching and performing it is no wonder that Legacy is home to serious com Legacy dancers perform throughout the year at professional shows, festivals, corporate events and on numerous television programs.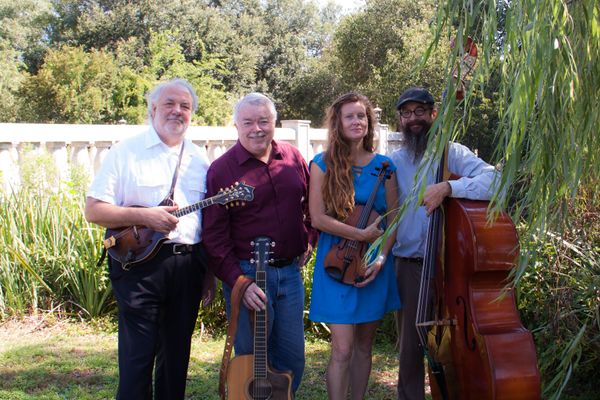 Carroll Brown Band - www.CarrollBrownMusic.com
Carroll Brown is a gifted acoustic guitarist and singer/songwriter from Kershaw County, South Carolina. With more than forty years in the music business, from New York to Nashville and across the American South, he performs full time at venues and festivals across the southeastern US. He hosts annual group tours to Ireland and Scotland and beyond.
The Carroll Brown Band also features Bob Sachs (from Virginia) on mandolin and vocals, Marci Shore (from North Carolina) on fiddle and Irish drum, and John Kennedy (from Albany, GA) on upright and electric bass.
Together, they perform popular American and Irish/Scottish singer/songwriter style music along with pub tunes and Appalachian songs and instrumental tunes.
For information on shows, recordings and group tours to Ireland & Scotland, visit: www.carrollbrownmusic.com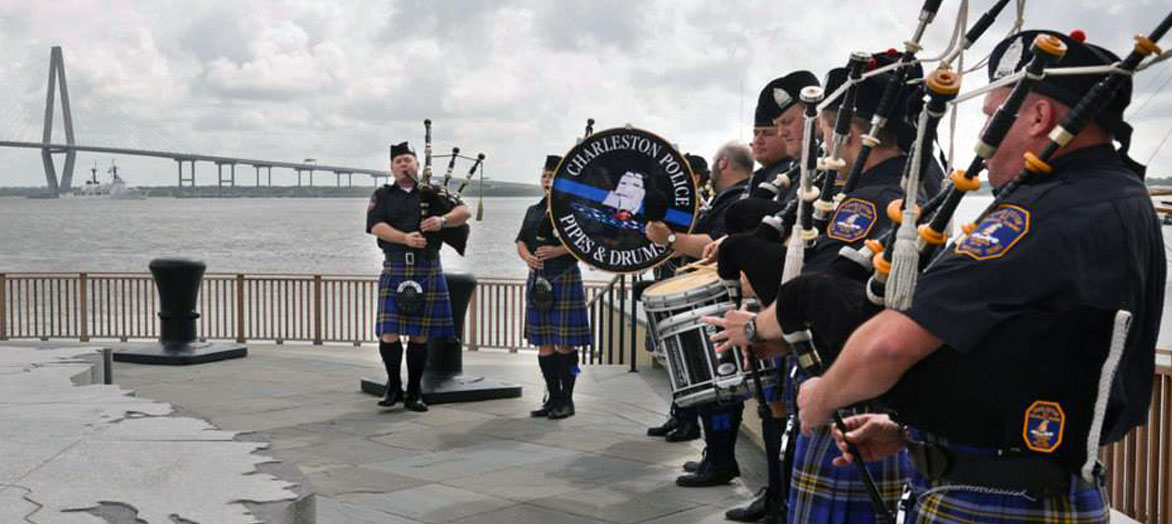 The Charleston Pipe Band
The Charleston Pipe Band has a rich and proud history. It was founded in 1995 as the Charleston Police Pipes and Drums by Police Chief Reuben Greenberg. Though the Charleston Pipe Band now operates as a fully independent 501(c)(3) organization it has not broken with its roots and maintains the Charleston Police Pipes and Drums Honor Band to serve the needs of the public safety community, locally and statewide. As such, the honor band is the oldest continuously operating police pipe band in the Southeast.
The Charleston Pipe Band has traveled throughout much of the Eastern United States Seaboard and Canada performing at parades, festivals, public events, funerals, and Scottish Highland Games.
This volunteer organization has a tradition of service to both the Charleston Police Department and the Lowcountry community. Its membership is composed of primarily of civilian volunteers along with active duty police, fire and safety officers. This award-winning organization is well-known locally, regionally, nationally, and internationally for its musicianship and professionalism.
As a self-funded and self-sustaining organization, all proceeds received by the band via sponsorship, parades, and other performances are allocated toward operating costs such as equipment, uniforms, and competition expenses. The band plays various events predominantly throughout the Southeast. Performances vary from individual pipers, quartets, or full parades.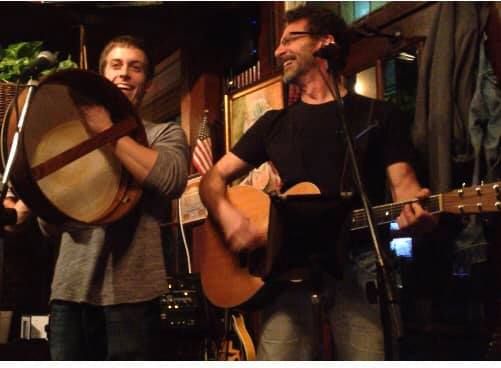 Christian Carroll & The Bograts
Christian Carroll is one of the most exciting new Irish music talents in all of the American South. He is also one of the least known outside of Charleston, South Carolina. Literally raised on stage at Tommy Condons Pub, he plays amazing fiddle and learned to perform under the tutelage of his Dublin born father, Steve Carroll.  Stephen, and his legendary Tommy Condons house band, the Bograts, held court there since 1986 at this lively and world renowned Irish pub.
Tourists, college kids and local patrons have raved and clapped along to the lively Irish pub tunes across the years. Many out-of-towners return year after year to hear the Bograts on Church Street.
Today, Christian Carroll and Dave Berry still carry on the legacy of his father and the tradition of Irish pub tunes in downtown Charleston.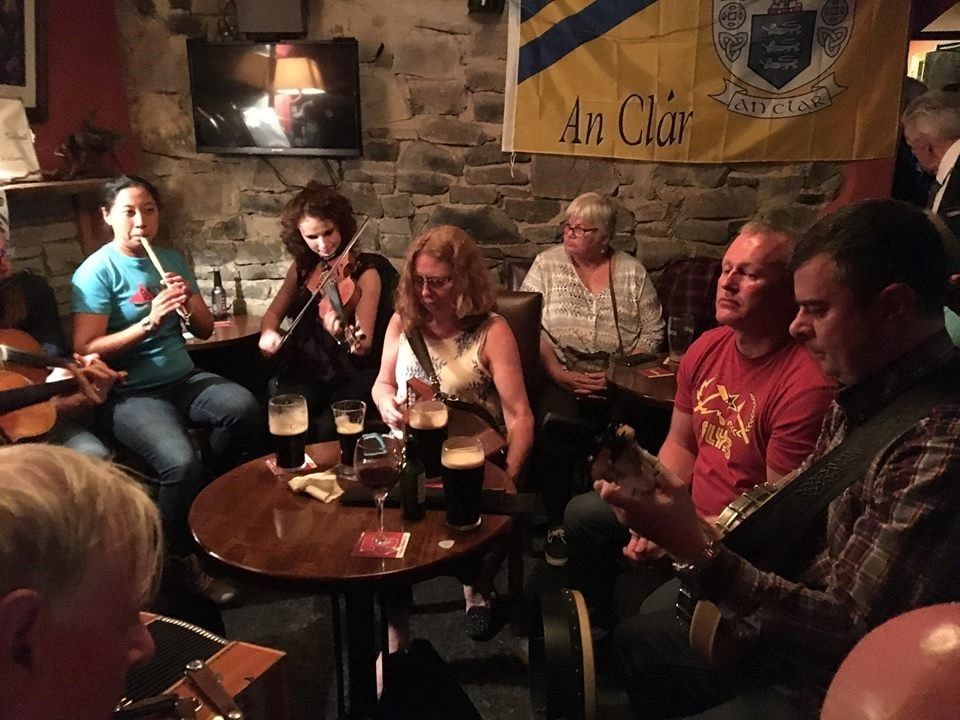 Catherine Kinder & Trad Friends